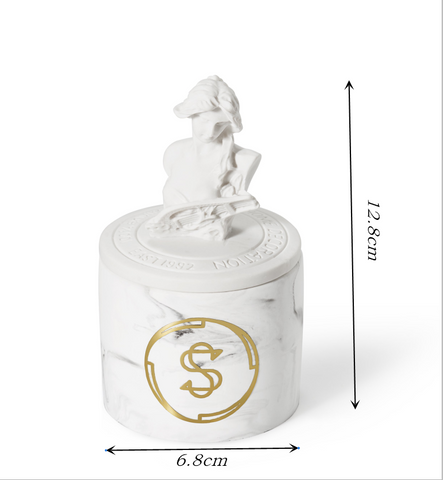 ◊ Size: 6.8*12.8cm
◊ Weight: 370 g
◊ Burning time: About 35 hours.
◊ Fragrance: Monet's Backyard
◊ Material: Imported coconut oil wax. HTP smokeless cotton candle cord for imported aroma candles.
◊ Flameless Burning: More environmentally friendly, each candle has a non-spilling metal holder, not only keep your place clean but also convenient for you to move them around.
◊ Perfect gift for your loved one: 100% handmade fragrance candles made with love. An ideal present for women birthday, Valentines Day, Thanksgiving, anniversary or Mother's Day. Show Your luxury Taste and Efforts.
◊ Preservation and Use: Avoid sun exposure. The packaging is fragile, please keep it properly.
◊ Statue character:
Female: Artemis
She is the living goddess of hunting and virgin in ancient Greece. It is also the mistress of wild beasts and lord of the wilderness, one of the twelve gods of Olympus.
Free and independent, love life in the wild.
Male: Mars
He is the god of land, war, agriculture and spring in Roman mythology, the patron saint of Rome, and the ancestor of the Romans.
Everyone knows that the statue of the wolf feeding the child that stands in the city of Rome, the biological father of the two children is the great God of War Mars.
◊ Customer Service: 100% brand new. Feel free to contact us if you have any question.